You are living in a polluted city, and if you are concerned about the air quality you breathe, you should consider having an Air Purifier. Today, an air purifier is preferred by most families to ensure they get clean air to breathe, which automatically keeps away most of the contaminants and indirectly the illnesses away.
We have researched a few air purifiers to help you to understand:
The best air purifier for dust removal
Air purifier for dust mites
Air purifier for dust in a large room
Let's dive in to know them in detail.
Mi Air Purifier 3 with True HEPA Filter
Mi Xiaomi is a trusted name in the mobile handset sector. Mi Air Purifier 3 come with a True HEPA filter and can filter 99.97% dust particle size up to 0.1 microns. It can clean the air up to an area of 484 sq. ft. It comes with 360-degree air intake providing filtration through 3 layers.
You can control it with its smart app compatible with Google Assistant and Amazon Alexa. The device's CADR (clean air delivery rate) is 380 m3/h.
The company offers a 1-year warranty on the main device from the date of purchase. The warranty doesn't include the HEPA Filter.
This device has received 4+ reviews out of 5 for easy installation, easy usage, sleep mode, and noise level.
Coway AirMega 150 (AP-1019C)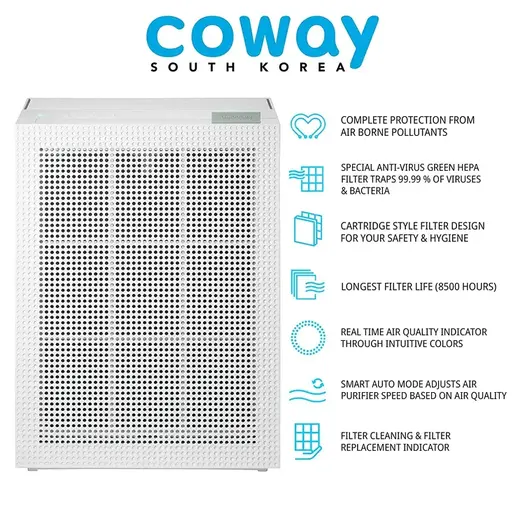 Coway is a company from South Korea and boasts of having the world's largest R&D Centre for Air Care Products.
Coway AirMega 150 (AP-1019C) purifier comes with a "Special Anti-virus Green Hepa Filter" protecting you from dust, pollen allergy, and hazardous smoke. The device cleans your home by removing 99.99% of viruses and allergens. It can clean a room of area 355 sq. ft.
This HEPA filter fitted in this purifier is having a thickness of 30mm (thickest) and can last for around 8500 hours. The AUTO MODE technology adjusts the speed of the air purifier as per indoor air quality.
With the REAL-TIME AQI technology, you can gauge the real-time indoor air quality in instinctive colours, with the help of a Smart Pollution Sensor. The device features a "Filter replacement indicator" to let you know when to change the HEPA filter and Carbon filter.
Cowy Air Purifiers offers you the longest warranty of 7 years on the motor. This air purifier has won the International Awards for Good & Spark Design and has been certified Allergy Friendly by ECARF.
The device has received 4+ ratings out of 5 for easy installation, easy usage, quality sleep, and sleep mode.
Sharp Air Purifier with Mosquito Catcher
This device is the product of the renowned company Sharp Corporation.
The air purifiers use Plasmacluster Ion, patented technology by the company, which claims to use a natural purification method. The claim has been backed by certification from several laboratories on the global level along with IIT Delhi and British Allergy Foundation.
The air purifiers run on a Dual Purification concept, using Plasmacluster & Filter (Pre-Filter, HEPA, Carbon). HEPA Filters block 99.97% of microdust and allergens to the tiniest size of 0.3 microns. The devices can ideally filter an area of around 450 sq. ft.
The Active Carbon Filter freshens the air and gets rid of Volatile Organic Compounds. It also absorbs cigarette, pet, and other general household odours and can run for 2 years.
The device is capable of capturing P10 particles and comes with a total of 3 types of filters, 1. Mesh type pre-filter, 2. HEPA filter & Active Carbon Filter, 3. Mosquito Catcher UV and Glue Sheet
The air purifier can run 3 modes, Auto Mode, Anti-Dust Mode, and Haze Mode, and comes with 2 sensors- Odour and Dust.
The air purifiers have received 4+ ratings out of 5 for easy installation and 3+ ratings for quality sleep, noise level, and sleep mode.
Honeywell Air Touch V2 Air Purifier
Honeywell's name isn't new to anyone today. With its trusted legacy for decades, Honeywell has a reputed name in the market.
The air purifier from Honeywell can filter an area of up to 388 sq. ft. The CADR is about 250 m3/h with an advanced filtration system having 5 air changes every hour. The purifier is equipped with a high-grade H13 HEPA filter and pre-filter, with an activated carbon filter.
You can set the shut-off timer by adjusting the sleep mode to 1, 2, 4, and 8 hours. The device also indicates whenever there's a need to change the filter. The filters have a life span of about 3000 hours or 1 year.
You get an on-site warranty of 1 year with purchase of this device.
The device has received customer ratings of about 4+ out of 5 for easy installation, sleep mode, and noise level.
Also Read: Best Philips Air Purifier
Conclusion
Air filters are great to have clean and fresh air at home. Day by day the air quality is decreasing and air purifiers help us to remove dust particles of micro size, invisible to the naked eye, and also remove most of the filthy odor that may emanate due to contamination or indoor pets.